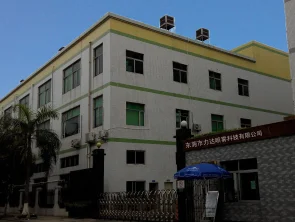 Dongguan leader Spray Technology Co., Ltd. was founded in 2006, Chang an town, Dong guan city, after 10 years of development, we supplied more than tens of thousands of nozzles to all over the world.
Our company is Set R & D, production, sales and integration. Not only have our independent products, but also have the professional technical team to study other countries nozzles.
The professional technical & the professional team support our factory to becoming the nozzles leader.
Our company has passed ISO9001:2000 International quality System certification.
Main departments including R & D Department, Production department, e-Commerce Department, sales department, purchasing department, QC Department, Logistics Department.
Our main equipment: CNC gongs bed, CNC lathes, CNC engraving machine, PU, milling, drilling, horizontal milling, precision grinder, large mill, wire cutting, and other decades of equipment.
We accept sample processing, drawing processing or ODM & OEM services.
Our products be widely used in steel, automotive, papermaking, spraying equipment environmental protection, electronics, food processing, agricultural sprinkler irrigation and fire more than 800 multiple industries.
Our mainly products:
Spray nozzles
According to spray shape: Flat fan Nozzle, square nozzle, including rectangular nozzle, liquid-column flow nozzle, solid conical nozzle, hollow conical nozzle, oval nozzle, fine atomizing nozzle, air atomizing nozzle.
Differentiated by concept: general metal nozzle, quick-dismantle nozzle, clip nozzle, combined nozzle, adjustable ball nozzle, adjustable screw spherical nozzle, leak-proof nozzle, narrow angle nozzle, wide angle nozzle, double nozzle, rotary nozzle, damping rotary nozzle, swirl type single outlet nozzle, swirl type four outlet nozzle. Refraction-type atomization nozzle, simple nozzle, profiled nozzles ...
Involved in the industry:
Coating, electroplating, electronics, steel, environmental protection, purification, papermaking, textiles, food, vehicles, engineering machinery, coal mines, power generation, chemical, petroleum, shipbuilding, agriculture, salt industry, tourism equipment…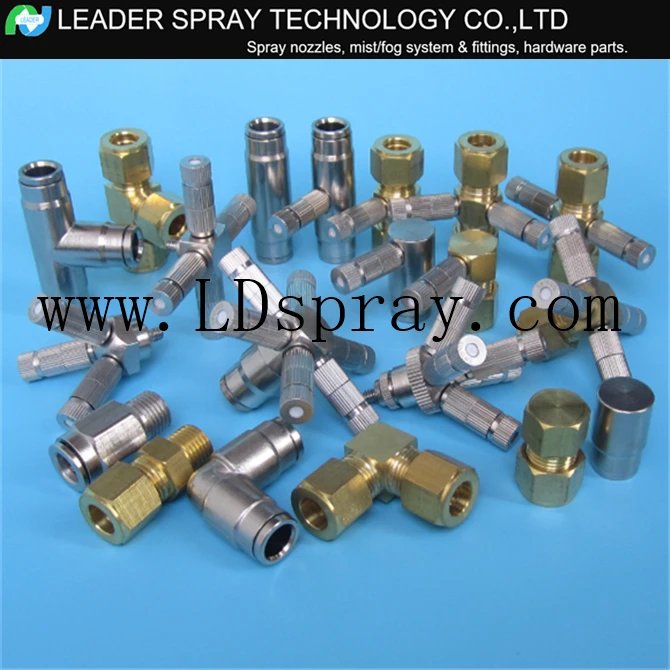 Mist fog nozzles & fittings
Mist nozzles:
Body material: Stainless steel or brass or brass coated with nickel;
Orifice material: Ceramic, stainless steel or ruby;
Nozzle filter: PP cotton or SS material;
Thread size: 3/16" or 10/24" or 1/8" or M5 or be customized others size by client requirements.
Orifice size: 0.08mm to 1mm or others;
Droplet: can be under to 5um fog.

Mist fittings:
Material: Stainless steel or brass or brass coated with nickel;
Pipe inlet size: common 3/8" or 1/4", also accept to be customized others size, like 6mm, 8mm, 10mm, 12mm, 14mm, 16mm;
Pattern: Ferrule type fittings & Quick coupling fittings;
Items: Through connector (1hole, 2 holes, or without hole), T connector, Four way connector, Elbow (90 degree), End cap (1hole, 2 holes, or without hole), Adapt …
Applications:
Humidifying; cooling and disinfection; man-made fog landscape, dust control…